How To Create Articles In Joomla?
If Joomla has been 
installed through Fantastico
 or from source with the sample data, a few articles will have been created and published already.
If you want to learn some good practices, you can have a look at how they are written and organized. Go to Content, Article Manager from the top admin menu if you want to see them.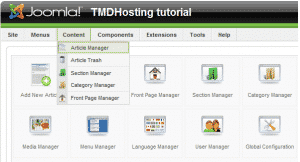 There are many articles that have been listed in the form of links there. To enter the Edit mode for an article, you should click on its link. To exit it, after exploring an article, click on the Close button. All the changes you have made will be discarded.
To avoid any confusion before building our first article, we clean all the default ones; go back to Content, Article Manager from the top admin menu.
Then check the first radio button in the column to select all the articles and click on the button [Trash] from the top admin menu.
We create our first article "About us". Click on the button [New] from the top admin menu.

Next, the following changes should be made:
Title: About us Alias: (blank/leave it empty)
Section: Uncategorized
Category: Uncategorized
Published: Yes (It shows to the visitors if it is not published. It remains only as a draft.)
Frontpage: Yes (The first page of our site appears.)
The information about our company will be specified in the main text field Then, we would like to place our company's logo inline, so we click on the image icon at the bottom of the page:

We click first on the link [Upload file] in the prompted window because our logo is not uploaded yet. But to find the logo you have to browse your local computer. Click on [Start Upload] to upload it when you have found it.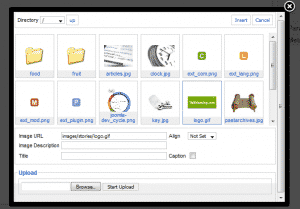 There will be an acknowledgement that you have successfully uploaded the file. And now along with the default Joomla images you can find it in the upper part of the window.
To select it click on logo.png (or the name of your logo whatever it is) and then on [Insert] to insert it in the article. You can easily adjust the logo in the article by dragging it to the position you'd like to have it. Finally, save the article by clicking on the button [Save].
Then the "Our services" page will be added. Follow the same steps as before: go to Content -> Article manager from the top administrator's menu. Next click on [New]. Again set the same Category and Section for our page: "Uncategorized".
Here it is what we offer and a description of our services. Note how many features the default Joomla text editor has. Its menu has standard editor design and is very intuitive. After we have finished the editing successfully, click on the button [Save] from the top-right panel to save the page.