How To Change Joomla Templates
The option for easily changing Joomla's templates is one of its great features. Download the template you like to your local computer when you find it. Next, log in your Joomla admin panel (your_domain_name.com/administrator – in our case) and then go to Extensions -> Install/Uninstall: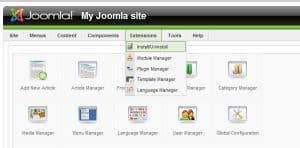 To find the file you have just downloaded you have to use [Browse.] in a box "Upload Package File".
Click on [Upload File & Install] when you find the file. When you have installed your new template, you have to apply it. In Joomla's admin panel go to Extensions -> Template manager:

Check the radio button next to your new template and from the top right menu choose "Default". Now, there are just 2 easy steps to follow and your site is re-designed and it has a brand new look.