Joomla Introduction
Joomla Introduction
Joomla is one of the best content management systems, which you can use to build powerful online projects and websites with various purpose and content. The script is very flexible and easy-to-use, provides many features and is open source and totally free for all of the users. The application is appropriate for use on all TMDHosting packages. These are some of the factors, which make Joomla one of the most used applications for building CMS websites. You can verify that from the following chart: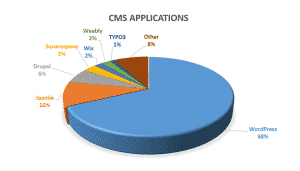 Now, we are going to outline some of the specifications of Joomla so you know what to expect and if it is going to suit your needs.
Joomla traveled a long way since its development team released it in 2005. With around 80 million downloads as of 2017, the script is widely used, together with the functionalities, offered by its almost 8000 different extensions, some of which are free and some – commercial. For all that time the software has gotten numerous awards, such as :
Multiple Packt Open Source Awards between 2006 and 2011
Best Open Source Application of 2012 by Infoworld Bossie Awards
Best Free CMS of both 2015 and 2016 by CMS Critic People's Choice Awards
With Joomla, you can keep track of any content, no matter if it is just text or it includes multimedia, photos, documents, etc. on your website with a certain precision. The software allows you to manage it with ease and without the need for an extensive technical knowledge, thus making it accessible for almost everyone. That is why this Cm is used by many different online projects, which vary from corporate and organizations' internal and external portals, through text content based websites, such as online magazines and personal/community pages, all the way to covering eCommerce and government projects.
You can rest assured of the continuous development of the platform, as due to its immense popularity the development team is dedicated to keeping working on it. It is also important to point out the significant 200,000+ strong Joomla community members – both contributors and users, which are always sharing tips and helping each other out.