How to improve WordPress SEO?
Building a good-looking website full of functionalities is very important to attract the visitors to it. With our  WordPress Hosting  packages you can easily deploy your application and start building your online business.
However Search Engine Optimization is also an essential factor for increasing your profit, making it possible for the potential customers to find not a random website but yours.
The SEO can be mainly divided in two major aspects – structural and technical.
The first one is associated with the development of the website. If your business relies on your website you should take care of creating and maintaining a well-coded and well-organized website with an intuitive structure containing all the necessary information related to your business.
The technical SEO aspect takes care of the page titles, meta descriptions, headings, links, keywords and the website organization.
Let's begin covering throughout the basic things you need to take care of when creating a website.
WWW or non WWW
It is up to you whether you would like your website URL to be displayed with or without www in front of the domain. However it is of great importance to make sure that your website is accessible via the two options.
This can be done with adding a redirect rule in the htaccess file of your WordPress application. Please note that redirects can be temporary or permanent. It is advisable to use a permanent 301 redirect so the search engines could index your website pages properly and more efficiently. Here is an example of a rule redirecting example.com to  www.example.com:

Site Title and Tagline
Here you need to add your website title, which is usually the domain name you have chosen or your Company name. For a tagline you need to add a brief description of your business – actually here you state what exactly you do or sell.
You can apply these changes from the WordPress Dashboard > Settings > General:

Permalinks structure
Actually the permalinks determine the way that the URL of specific page or post would look like in the browser address bar. They are based on your domain name followed by a string of words that you can control using this feature.
For a better SEO it is important to maintain these URLs readable so search engines can easily access your website's content. To set a SEO-friendly permalink structure you should go to your WordPress dashboard > Settings > Permalinks: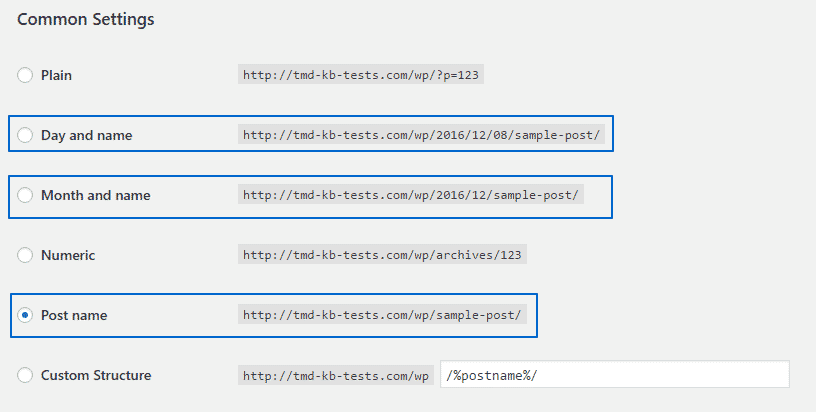 The options we recommend are Day and name, Month and name and Post name. Have in mind that using time specification in the URL is helping the visitors of your website to determine how recent the information is, but is makes the URL longer which decreases the SEO. Using the Post name structure allows you to specify the subject of the page or post using a slug of your choice.
How to choose an appropriate slug for your pages and posts?
There are three basic things to have in mind when adding a slug to the content of your website– length, relevance, separators:
– Use 3 to 5 words in the slug – this will allow you to describe the information on the current page without making the URL too long
– Make the slug relevant to the content combining it with keywords
– Use hyphens as a separator
You can change the slug of a page on your website via the Dashboard > Pages > Quick Edit of the page in question:


To change a post slug go to the Dashboard > Posts > Quick Edit of the post in question:

Meta tags and description
They are used to attract the visitors to your specific websites among all of the results displayed in the search engine. When adding a meta description to a page of your website the main goal is to include more detailed information on the matter discussed on that page and also implement more keywords.
Code and XML sitemap
It is important to know that the code structure of your website is also important for the SEO. The more unused and unnecessary lines there are in the code the more difficult it would be for search engines to crawl and index it.
Additionally generating a sitemap of the website will let search engines know about the newly added, modified or removed content. You can create a sitemap using a plugin of your choice.